Crawl Space Repair Lincoln, NE
Wall anchors are a generic name for a kind of solution created for cracked, buckling, or bowing walls. You will likely stumble upon several brand names of this system all over the Internet.
With virtually any wall anchor system, there are a variety of popular brands available which all make use of anchoring plates and rods to stabilize a foundation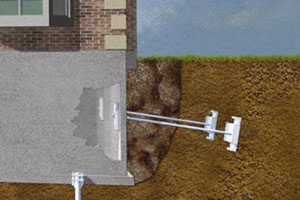 wall and counteract pressure being placed against it. Making use of wall anchor systems is much less expensive than choosing to replace the entire wall. Our expert wall anchor techs will insert steel anchor rods through the bowing wall to an anchor in on the outside in the soil. Finally, steel wall plates will be used to secure the rods to the inside of the buckling wall.
Wall anchors will be situated strategically at different locations along the wall and rod extenders will be used to steer clear of the the deck, flowers, and other landscaping features on your property. In fact, the entire wall anchor installation process takes less than a day on average. Your home and lawn will be left in the exact same condition as it was in when our workers arrived at your property, without the bowing walls. These rods and anchors can then be modified as time goes on to continue supplying the wall(s) with adequate support.
Your Home Will Need a Wall Anchor if:
You have bowing or buckling foundation walls.
There are cracks on the bowing/buckling walls.
There are great fluctuations in the degree of bending or bowing over a short period of time.
Advantages of Wall Anchors:
Can straighten a wall (usually) without excavation
Very little disturbance to landscaping, sidewalks, driveways, patios, porches, etc.
Low-profile wall plate can be painted or finished over
Counteracts pressure on the wall without causing damage to the foundation
Stabilize leaning, bowed walls
Patented product that can only be installed by certified installers (OFP)
When hydrostatic pressure accumulates in the soil, or the soils grow with water saturation, as time passes it may press against your basement and foundation walls and trigger bowing. If not fixed having a bowing or a tilting wall could cause significant structural damage in the remaining portion of the house.
Foundation Corrections with Wall Anchors
The structure may be stabilized or repaired back to its initial position by using a wall anchor system.
Wall Bowing may be remedied using wall anchors which are manually and machine pushed out beyond the active zone of shifting earth at a downward angle. Wall anchors from Omaha Foundation Pros offer additional horizontal force to help stabilize bowed and damaged basement or foundation walls. This installation is easily set up using handheld tools and needs minimal excavation or disruption to the lawn.
Average rating for Lincoln Foundation Repair & Basement Waterproofing Pros is 5 stars of 5 stars – based on 17 reviews
Basement Waterproofing in Lincoln, NE
You did a great job! After the gutters were replaced, your system was tested and it did a great job! The solution you offered saved us a lot of money and we really appreciate the honest approach. I'll recommend your company to others.
Mary Jo K. - Lincoln, NE 68503