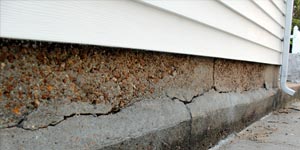 Many homeowners in Nebraska have seen foundation cracks on their walls inside or outside of the home. They can be caused from the natural curing and shrinking process involved with concrete, or their appearance could be an indication that there is a more serious structural problem happening in the 
home. Our team of structural experts will be able to come to your home, identify the underlying cause of the problem, and come up with an effective and affordable plan of action for getting the situation taken care of once and for all. We can fix horizontal, vertical, or stair-step wall cracks. We can also take care of cracks that appear in your basement floor. It's important to get these openings filled with our epoxy injection immediately before they start to let water seep inside – and it's really only a matter of time before this happens! Water always knows the path of least resistance, and this may be through cracks in your foundation walls or basement floors. Then you don't just have a structural problem on your hands, but a wet basement, as well! We provide solutions for 
foundation cracks in your local Nebraska area
 that will completely fix and remove and future problems.
If our experts have determined that the cracks in your home are caused from foundation settlement, we can install foundation piers to prevent the problem from getting worse. Piers are installed in stable, load-bearing strata deep within the earth. The weight of the home is transferred off of the fragile foundation and onto the piers. Ultimately, this will help with pushing the home back up to the level where it needs to be. The piers also stabilize the foundation and prevent additional cracks from forming.
If the cracks exist because of too much hydrostatic pressure in the soil surrounding your home – you may notice bowed walls, too – then we can install wall anchors to fix the problem. Our anchors are able to strengthen and stabilize a wall so that it doesn't lean anymore, and it will also prevent the hydrostatic pressure from doing any additional damage. The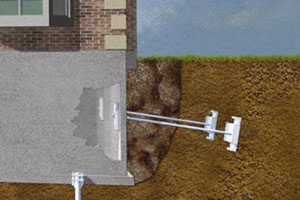 anchors are set up deep within the earth, and a wall plate is installed on the damaged wall inside of the home. The two are joined together with a steel rod that can be tightened over time to help with counteracting the lateral pressure being applied to the wall from the soil surrounding the home.
Average rating for Lincoln Foundation Repair & Basement Waterproofing Pros is 5 stars of 5 stars – based on 17 reviews
Basement Waterproofing in Pleasant Dale, NE
Dave came out several times and answered all of our questions, even came back after we had all drywall off and changed evaluation accordingly.
Todd & Cherry W. - Pleasant Dale, NE 68423