If you have bowed basement walls, the problem likely was caused from excessive hydrostatic pressure in the soil surrounding your home in Nebraska. Whenever you have soil that is rich in clay minerals or other minerals that absorb a lot of moisture when it rains, it\'s going to cause the earth to swell up. When this happens, it puts a significant amount of pressure on your basement walls (hydrostatic pressure), and it will eventually push the wall into the home. This can also be accompanied by wall cracks in a horizontal, vertical, or stair-step fashion. This is a problem that must be taken care of immediately when you notice it. Failure to do so could result in the wall actually collapsing in on itself. Needless to say, this will cause serious problems for the structural integrity of your family\'s home. Contact us today to get these problems taken care of fast! We offer bowed wall repair services in Nebraska cities and town.
When it comes to fixing the problem, we can install 
wall anchors
. Our anchors are installed deep within the earth in stable soils. A wall plate will be installed in your home on the effected wall. Both the anchor and plate will be connected to each other with a strong, steel rod. The rod is specially-designed to be able to be tightened over time to prevent the wall from leaning any more into the home. Eventually, the wall will be pushed back into an upright position.
After we have installed the wall anchors, we can take care of any resulting wall cracks with the use of our epoxy injection technique. First, the surface of the crack will be cleaned off so that dirt can\'t get inside during the repair. Next, the epoxy material will be injected into the crack from the earth to the surface. This will seal it off and prevent water from seeping inside the home and causing a wide variety of problems.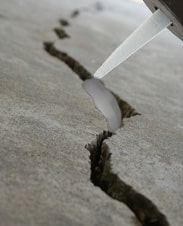 Average rating for Lincoln Foundation Repair & Basement Waterproofing Pros is 5 stars of 5 stars – based on 17 reviews
Bowed Basement Walls in Lincoln, NE
You were great to work with. Glad to know our bowed foundation wall is no longer an issue.
Christine D. - Lincoln, NE 68544