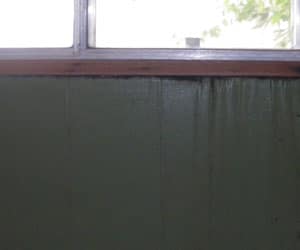 Whenever you have basement windows with wells, the drains can get clogged up. When this happens, moisture builds up inside of the well, and it will eventually break through the seal on your window frame causing a window leak. The water will seep inside and trickle down the basement walls and pool up on the floor. This is a serious problem that must be dealt with immediately before it causes ugly stains to form on your basement walls, and before it
ruins something you have stored in this area below your home.
A lot of homeowners worry that they will need to replace the entire basement window when they notice that it leaks. However, that is not the case at all. Sometimes, the window just needs to be re-sealed, or perhaps a new well or drain should be installed. Our professionals will come to your home for a consultation and they will thoroughly inspect the problem to come up with a plan of action for getting the situation resolved once and for all.
We can install a new window well and drain if your existing one is too old to effectively drain water away from your basement window. Installation can be finished quickly, and we have many different designs and styles for you to choose from. Our professionals will take measurements before installation to be sure that the right size window well is brought to the job site for your appointment.
Sometimes, there can be excessive water build-up in a window well if a home has problems with yard drainage and grading. If you have a lawn with hills that slope toward the home, water run-off during a heavy rain can cause moisture to build up next to your foundation walls and basement windows. Eventually, the pressure from the water proves to be too much, and it will break through the window seal and get into your home. We can make sure that your lawn is sloped properly, and we can also install an exterior drain, sometimes referred to as a French drain, to help with preventing water from pooling up when it rains, or when you have melting snow on your lawn.
Average rating for Lincoln Foundation Repair & Basement Waterproofing Pros is 5 stars of 5 stars – based on 17 reviews
Basement Waterproofing in Lincoln, NE
Well done! Great Crew. Courteous, helpful, arrived on time and good cleanup. The basement stays dry now with heavy rain – well done!
Larry L. - Lincoln, NE 68520