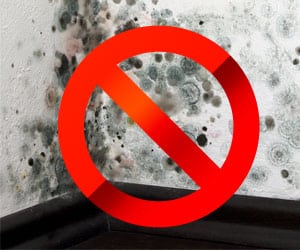 Get basement mold removal by our certified mold experts here in Nebraska. Mold in a home is never a good thing, and its presence is caused from the existence of moisture, humidity, and organic materials. It's typically dark green or black in color, and it can make your entire home smell very musty, similar to dirty gym socks. It can also cause a variety of health issues, including: sneezing,
coughing, headaches, fatigue, asthma attacks, allergies, skin irritation, and many other health problems your family should never have to deal with just because you have a wet and humid basement. We can test for mold to determine how many spores are in the air, and then we can get rid of it and make sure that it never comes back again to cause problems.
Our Mold Response Tactics
First, we will need to determine how much mold is in your home. When mold grows, it releases spores into the air. We can test to see how many spores are present, as well as where the highest concentration of the spores are found in your home. Usually, basements, kitchens, and bathrooms rank highest for the number of mold spores found. Once we know what areas to focus on, we can begin our search for the mold itself to see where it's growing and how bad the damage really is.
Next, we will need to remove the mold. We know that some homeowners think they are able to remove the mold by cleaning off the surface where it's found with some bleach. While this may work for a day or two, eventually the mold will be back. We use proven removal techniques that will guarantee that the mold stays away for good.
Once the mold has been removed, we need to be sure that it never comes back again. To do this, we will need to install interior or exterior waterproofing systems, sump pumps, and a dehumidifier for controlling the amount of moisture in the air. All of these systems working in unison with one another will prevent the growth of this dangerous fungus under your home.
Average rating for Lincoln Foundation Repair & Basement Waterproofing Pros is 5 stars of 5 stars – based on 17 reviews
Basement Waterproofing in Lincoln, NE
Well done! Great Crew. Courteous, helpful, arrived on time and good cleanup. The basement stays dry now with heavy rain – well done!
Larry L. - Lincoln, NE 68520