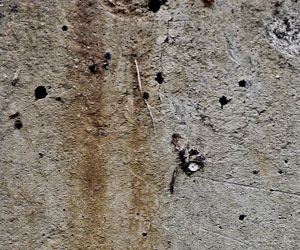 This is a common way water is able to get into the basement. If your lawn isn't graded properly or doesn't have the right drainage in place, water can pool up next to the foundation walls. Eventually, it will break the seal between your home and the foundation and it will start to trickle inside and down the walls giving you a basement wall leak. You will know that you have this problem in your home if you can actually see water dripping down the walls, or if
 you see noticeable stains forming on the wall's surface. This is a serious problem that has to be taken care of quickly before it leads to more serious problems, such as issues for the structural integrity of your family's home.
Exterior Waterproofing Membrane
To prevent water from getting into the home in the first place, we can install an exterior waterproofing membrane on the outside of your foundation walls. This membrane has tiny holes in it for water to pass through. Once inside, it is directed into drainage system. Water has no chance of passing through this thick, tough membrane. You will never again need to worry about going into your basement and seeing unsightly stains on the walls or puddles on the floor when you get this exterior waterproofing product installed at your home!
In addition to installing an exterior waterproofing membrane to help with leaky walls, we can also take care of yard drainage and grading issues. If your yard has hills that are sloped downward toward your foundation, this is only going to cause problem after problem in the future. We can take care of the grading, and we can also install special exterior drainage systems known as French drains. With these products installed, you won't need to worry about moisture pooling up in spots on your lawn, or building up next to your home's foundation walls.
A dry basement is a healthy and safe basement. Please feel free to contact us today to learn more about the waterproofing services that we can provide for you. We look forward to hearing from you soon!
Average rating for Lincoln Foundation Repair & Basement Waterproofing Pros is 5 stars of 5 stars – based on 17 reviews
Foundation Repair in Lincoln, NE
I selected your company because of their professionalism and cost-effectiveness. Your evaluation of my foundation problem was well thought out and communicated effectively. I'm very happy with the work that was done and the professionalism of the workers.
Mark K. - Lincoln, NE 68522