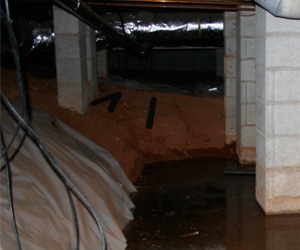 If you have noticed an abundant amount of moisture under your home because of crawl space flooding, it's a problem that you can't put off getting fixed any longer. The longer you let this problem go, the more likely it becomes that you are going to have expensive damage on your hands to worry about taking care of, including damaged wooden support beams and a sagging first floor. We can provide you with effective and affordable solutions to your flooding problem in 
Nebraska. It's important to never try to go into a flooded crawl space as this can be incredibly dangerous! Be sure that you give us a call if you notice flooding conditions under your home, and we will be sure to send someone to your home right away to take a look at the problem.
In addition to doing crawl space encapsulation (sealing the area off), we can also install a sump pump for extra protection against moisture. The sump pump is smaller than a sump found in a basement, but it works the same way. A pit is put into the floor of the CS, and water here will be pushed out and away from the home when it reaches a certain level. We can also install a battery back up unit for extra protection in case the main pump fails, or if your home happens to lose electricity – which can be common during a serious storm!
Our sump pumps are very easy to maintain, and they are made from cast-iron and steel materials which makes them the perfect product for the environment inside of your crawl space. They were built to last and to keep this area dry, safe, and healthy!
Additionally, we can check your yard drain & grading to be sure that there aren't any problems here. Sometimes, if a lawn is sloped toward the home, runoff from rain on the hill can pool up next to the foundation and make its way into the crawl space. We will check your lawn's terrain, and if there are any problems, we can recommend grading solutions to get the problem taken care of. We can also install exterior drainage systems which are sometimes called French drains.
Please give us a call today to learn more about our crawl space repair and waterproofing services. We look forward to hearing from you soon!
Average rating for Lincoln Foundation Repair & Basement Waterproofing Pros is 5 stars of 5 stars – based on 17 reviews
Foundation Repair in Lincoln, NE
I selected your company because of their professionalism and cost-effectiveness. Your evaluation of my foundation problem was well thought out and communicated effectively. I'm very happy with the work that was done and the professionalism of the workers.
Mark K. - Lincoln, NE 68522