Exterior Waterproofing Membrane
If water is able to get into your family's home through cracks in the outside of the foundation wall, then it is recommended that you get an exterior waterproofing membrane installed by our team. We realize that local home improvement stores and hardware stores sell waterproofing membranes of their own that promise to keep water out. However, these products are nowhere near as effective or as dependable as what we can provide for you. When you get our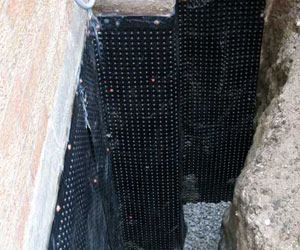 waterproofing membrane installed, you won't need to worry about water getting inside your basement and trickling down the walls.
Even if you don't have a finished basement or have any plans of ever finishing this area, you still need to be sure that you are keeping water out. A lot of homeowners don't realize how serious water in the basement can really be. However, you must understand that it can cause many different problems, including the following:
Damage to the structural integrity of the home
Wood rot, decay, and deterioration (support beams, floor joists, staircases, banisters, etc.)
Poor indoor air quality
Mold and bacteria growth
Damage to anything that may be stored in this area of the home
However, when you make sure that you have the right waterproofing systems and products in place, such as an exterior waterproofing membrane on your foundation wall, you won't need to worry about these things happening in your family's home.
Our waterproofing membranes provide 100% protection against water intrusion into your home through the outside of the foundation. The membrane is a durable material that has tiny holes in it. Water gets in the holes and is moved into an exterior drainage system. It will never be able to get into your basement and cause problems.
Average rating for Lincoln Foundation Repair & Basement Waterproofing Pros is 5 stars of 5 stars – based on 17 reviews
Basement Waterproofing in Waverly, NE
Your evaluation was communicated very clearly. Someone was able to come out right away and give me an estimate. The job was scheduled quickly and basement repaired professionally.
Bill B. - Waverly, NE 68462