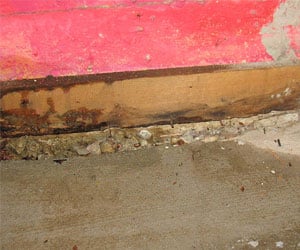 Whenever you notice mold growing in your basement, it's a serious problem that you need to get taken care of immediately. Mold needs three things to grow, which are: moisture, humidity, and organic materials to feed off of. When these things are found in your basement, it's only a matter of time before you start seeing this fungus growing on walls, floors, or on things you may have stored here.
Mold is typically dark green or black in color, and it can make your home smell very musty. It's also been known to cause a variety of health problems, including the following: asthma attacks, allergies, headaches, fatigue, sneezing, coughing, respiratory problems, and many other medical conditions that you and your family shouldn't have to deal with.
We can take care of the cause of the problem (high humidity levels and moisture), and we can also do the clean up work under your home so you can have improved indoor air quality and fresh, clean air for your family to breathe in.
We can remove mold from your basement and make your home smell much better. Mold is a nasty fungus, and it has the potential to cause a lot of problems. A lot of homeowners think that they can remove the mold by simply cleaning off the surfaces where it's found with a bleaching solution. While this may "clean" the surface for the time being, it's really only a matter of time before the mold comes back and causes problems again. This bleach doesn't take care of the cause of the mold growth, which is excessive moisture and humidity. We will handle mold removal like true professionals, and when we leave your home, you can rest assured knowing that you will never need to deal with this nasty fungus growing here again.
Installing a basement dehumidifier can help with controlling the moisture in the air. This can also help with preventing the rotting, warping, or decaying of wooden materials, such as support beams, floor joists, staircases, and banisters. A dehumidifier can be installed quickly by our team of professionals. Choosing the right one will depend on the size of your basement environment, and we are here to help you from step one to completion of the installation.
If the mold is caused by basement flooding, wall leaks, window leaks, or wall cracks you will need to use our preventitive systems for basement mold.
Average rating for Lincoln Foundation Repair & Basement Waterproofing Pros is 5 stars of 5 stars – based on 17 reviews
Basement Waterproofing in Lincoln, NE
The crew was very friendly and I would highly recommend them to every one.
Larry Shaw - Lincoln, NE 68521