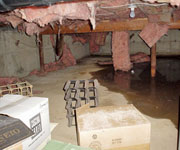 A wet crawl space can be a nightmare for a homeowner in Nebraska. However, rest assured knowing that we are here and ready to help you. Even if you don't have anything kept in this area of the home, such as HVAC systems, you still need to be sure that the space is kept dry, safe, and healthy. This is the only way to ensure that you don't have to deal with serious moisture issues ever again.
Water in this area of your home can cause many different problems, ranging from minor to severe. But, they are all problems that you should never have to deal with! We have seen moisture here leading to the growth of dangerous mold which can make your family really sick. Also, it can cause wooden support beams and floor joists to rot and warp. This can cause problems for the structural integrity of your home. Furthermore, all of this rotting wood can be really inviting to unwanted critters, such as termites, roaches, and mosquitoes.
Crawl Space Encapsulation
To take care of the problem, we can perform 
crawl space encapsulation
. This is a process that involves sealing the area off from the outside environment. When we do this, we install a vapor barrier, floor liners, and we can also set up a sump pump and dehumidifier to help with controlling moisture and humidity in the air. The process can be finished fairly quickly, and it's the best way to guarantee that water doesn't get inside in the future and cause issues below your home.
If you have water that is seeping up through the ground under your crawl space and causing it to flood, we can install a sump pump. Our 
crawl space sump pumps
 work the same as basement sumps, but they are somewhat smaller in size. A sump will collect water in its basin and then push it out and away form the home once it reaches a certain level. This is also a great solution if you have issues with yard grading and drainage and have water that pools up next to the skirting of your home.
If water is getting into the skirting of your crawl space because it is pooling up next to your home, it is likely a problem that is caused from poor yard drainage and grading. We can come to your home, assess the problem, and provide solutions to taking care of the terrain of your lawn. We can also install an exterior drain known as French drain system.
Average rating for Lincoln Foundation Repair & Basement Waterproofing Pros is 5 stars of 5 stars – based on 17 reviews
Basement Waterproofing in Lincoln, NE
The crew was very friendly and I would highly recommend them to every one.
Larry Shaw - Lincoln, NE 68521