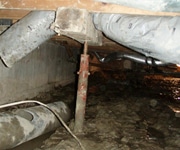 If you have noticed that there are certain areas on the first floor of your home that feel un-level when you walk across them, then you likely have a wet crawl space problem thats causing sagging floors. Whenever moisture is able to get into this area of your home, it can quickly damage all wooden materials. This includes support beams, floor joists, and other materials found here. When this happens, it causes the wood to rot, warp, and deteriorate. It is no longer able to properly support
the weight of your home, and then the floors start to sag.
If the problem is not properly taken care of in a timely manner, the floor may actually cave in! Needless to say, this is not something you want to deal with. It can also be really dangerous if you or someone in your family happens to fall through the floor, or if you have appliances or electronics that fall. To take care of the problem, you can have our professionals install crawl space stabilizers, which are sometimes referred to in the industry and by homeowners as floor jacks.
Crawl Space Stabilizer (Floor Jacks)
Having crawl space stabilizers installed is the most effective solution for taking care of a sagging floor caused from a leaking crawl space. The floor jacks will be able to be strategically placed under your home so that they can be used in the right areas to support your home's weight. The number installed and their placement will be determined by our professionals who have years of experience in the crawl space repair and waterproofing industry.
It is also recommended that you get crawl space encapsulation work done to make sure that water is not able to get into this area in the future and cause additional problems. Any and all moisture under a home is never a good thing, and it can eventually lead to many types of problems, including wood rot, mold growth, problems for the structural integrity of a home, and pest control problems.
Average rating for Lincoln Foundation Repair & Basement Waterproofing Pros is 5 stars of 5 stars – based on 17 reviews
Basement Waterproofing in Waverly, NE
Your evaluation was communicated very clearly. Someone was able to come out right away and give me an estimate. The job was scheduled quickly and basement repaired professionally.
Bill B. - Waverly, NE 68462