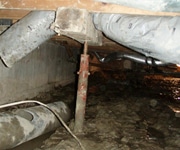 Mold anywhere in your home is not a good thing, even if it is in your crawl space where you don't really see it on a daily basis. Crawl space mold is a fungus, and it needs three things to live, which are moisture, humidity, and organic materials to feed off of. When these things are present, mold will grow. It grows on boxes, wood, and it's often a dark green or black color. It smells musty, and you will know that you have it if you can smell a musty odor on the first and second floors of your home.
When this fungus grows, it releases spores into the air. This can have a negative influence on your home's indoor air quality. Also, when your family breathes the spores in, it can cause a variety of serious medical problems, including: asthma attacks, respiratory problems, coughing, sneezing, allergies, skin rashes, and more. These are things no family should ever have to deal with simply because they have an un-sealed crawl space that is filled with moisture and humidity.
Step one in getting rid of mold is testing to see how many spores are present, as well as figuring out where it's growing. There are many homeowners who think it doesn't matter if they have mold growing in their crawl space because they never go into this area. It's not like a basement where a homeowner can get it finished and add in extra living areas. However, it still doesn't matter. Mold is mold, and it needs to be removed whenever it's growing in your home. We have proven and effective techniques for removing this dangerous fungus, and our techniques are guaranteed to stop mold from ever coming back and causing problems.
Crawl Space Encapsulation
One way to stop mold from ever coming back is to prevent moisture and humidity from getting under your home. This can be done through crawl space encapsulation. This will involve the installation of vapor barriers and floor liners, as well as sump pumps and dehumidifiers. This will guarantee that unwanted moisture, humidity, and pests won't be able to get inside and cause issues below your home. It will improve your indoor air quality, and your family will be breathing in much fresher, safer, and healthier air that doesn't smell musty, and it won't make them sick because there won't be any more mold spores!
Average rating for Lincoln Foundation Repair & Basement Waterproofing Pros is 5 stars of 5 stars – based on 17 reviews
Basement Waterproofing in Omaha, NE
What an excellent job. The were very friendly and courteous. They cleaned up everything as if they never been there. I was so impressed. Dave was very information – no hard sell, product sold itself.
Jim P. - Omaha, NE 68111