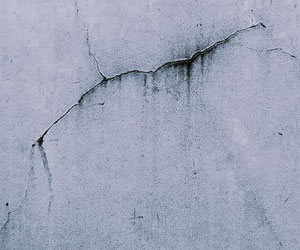 A wall crack could be a sign of a serious structural problem, or it could simply be caused from the natural curing and shrinking process that concrete in your foundation goes through. To know for sure, you are going to need to have it looked at by our waterproofing and foundation professionals here in Nebraska. We have years of experience in the business, and we have helped countless homeowners with their basement and structural
problems. We will be able to determine the cause of the crack, the best way to fix it, and we can also take care of any cleanup work that may be necessary for the water damage that's been done.
Water always finds the path of least resistance, and when you have wall cracks, moisture is easily able to get inside. You will know that you have a leaky wall crack if you can physically see water getting inside through the crack and trickling down the wall, or you may notice stains on the wall's surface or puddles on the floor. This is a problem that must be taken care of quickly before it results in even more serious damage.
We can install wall anchors to help with strengthening the wall and preventing the cracking from getting worse before we seal it off. The braces are made from strong, durable materials which are perfect for the basement environment underneath your home. They will help to make your walls much stronger and more stable.
We can make use of an epoxy injection technique to seal the crack off inside the home. The process starts with us cleaning off the surface of the wall crack. Next, we inject the epoxy material into the crack from the soil to the surface of the wall. This epoxy material will cure quickly, and once it does, you won't need to worry about seepage getting inside again and causing problems. This technique has proven time and time again to be effective at taking care of even the worst wall crack leaks.
Along with fixing the crack itself, we can also install interior waterproofing systems which will help keep your basement dry at all times. We can install drainage systems, sump pumps, and even dehumidifiers to help with humidity control underneath your home. All these systems working in unison will provide you with a dry, safe, and healthy basement environment.
Average rating for Lincoln Foundation Repair & Basement Waterproofing Pros is 5 stars of 5 stars – based on 17 reviews
Basement Waterproofing in Lincoln, NE
The crew was very friendly and I would highly recommend them to every one.
Larry Shaw - Lincoln, NE 68521