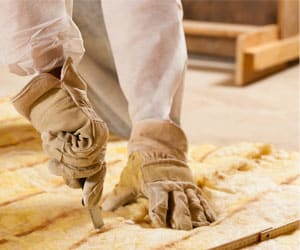 When you have a sealed crawl space that is protected against moisture, it will increase the comfort of your home and also help you to save on your monthly energy costs in Nebraska. The right crawl space insulation, along with encapsulation products (vapor barriers, floor liners, dehumidifiers, sump pumps, etc…) can help to improve the durability of your home, its structural strength, and it can prevent Radon gas, and 
unwanted pollutants and irritants from getting into your home and causing problems.
When you don\'t have crawl space insulation at all, conditioned air from inside of your home can easily escape. Also, hot or cold air from outside can get in. When this happens, it forces your air conditioner and heater to work much harder than normal, and this can cause you to have skyrocketing energy bills each month. If you don\'t have a sealed crawl space, it is recommended that you get fresh insulation installed during the encapsulation process. We have all the experience you expect from a waterproofing company and provide our insulation services in Nebraska areas.
We offer a variety of energy efficient insulating materials that are perfect for your family\'s home.
Fiberglass insulation can be installed underneath the floor boards on the first floor of your home above the crawl space. The materials provide a padded area that prevents cold or hot air from outside getting in and causing problems in the living areas of your home. This padded insulation will also help to keep the floors warm on your first floor during the winter months since cold air in your crawl space won\'t be able to get to the floor.
A radiant barrier can be installed under the vapor barriers and floor liners in your crawl space during the encapsulation process. This will help to radiate heat back up and into your home. This will save you a lot of money during the cooler months of the year since your heater won\'t need to work very hard. On the contrary, it can also radiate heat back outside during the hotter months of the year when the sun is beating down on your home. This will help your home's AC to run less and much more efficiently.
Average rating for Lincoln Foundation Repair & Basement Waterproofing Pros is 5 stars of 5 stars – based on 17 reviews
Bowed Basement Walls in Lincoln, NE
You were great to work with. Glad to know our bowed foundation wall is no longer an issue.
Christine D. - Lincoln, NE 68544