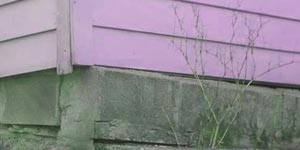 This is a common problem seen on both new and old homes all over the Nebraska area. Sinking foundation can be brought on by a variety of different factors, including poor soil compaction, improper building techniques being used during the time when the home was being built, a wet season that has made the soil
very soggy and unable to support the weight of the home, or even from tree and vegetation growth which has caused the foundation to settle into gaps and voids in the earth where roots are or were. Regardless of the cause of the settlement problem, you must get it fixed immediately before it causes problems for the structural integrity of your home. We can take care of all issues involved with sinking foundations in your local Nebraska area, from foundation diagnosis to foundation system installation- we got you covered.
There are many homeowners who want to know what some of the warning signs are of a sinking foundation. Take a look at the following to learn more:
Windows and doors don't open or close like they should
Interior and exterior wall cracks form
Concrete slabs are un-even inside of the home or on the driveway, porch, or sidewalk
Cracks form along window and door frames
Noticeable sinking of one or more sides of the home
To take care of the problem, we can install foundation piers. Our piers are made from strong, solid, durable materials that are built to last. The piering process begins with us determining the best position to place the devices, as well as figuring out how many are going to be needed to fix the problem. Next, the piers are placed deep within the earth in stable, load-bearing strata. The weight of the home is shifted off of the weakened foundation and onto the piers themselves. Eventually, this will help with pushing the home back up to the level where it needs to be.
Average rating for Lincoln Foundation Repair & Basement Waterproofing Pros is 5 stars of 5 stars – based on 17 reviews
Basement Waterproofing in Pleasant Dale, NE
Dave came out several times and answered all of our questions, even came back after we had all drywall off and changed evaluation accordingly.
Todd & Cherry W. - Pleasant Dale, NE 68423